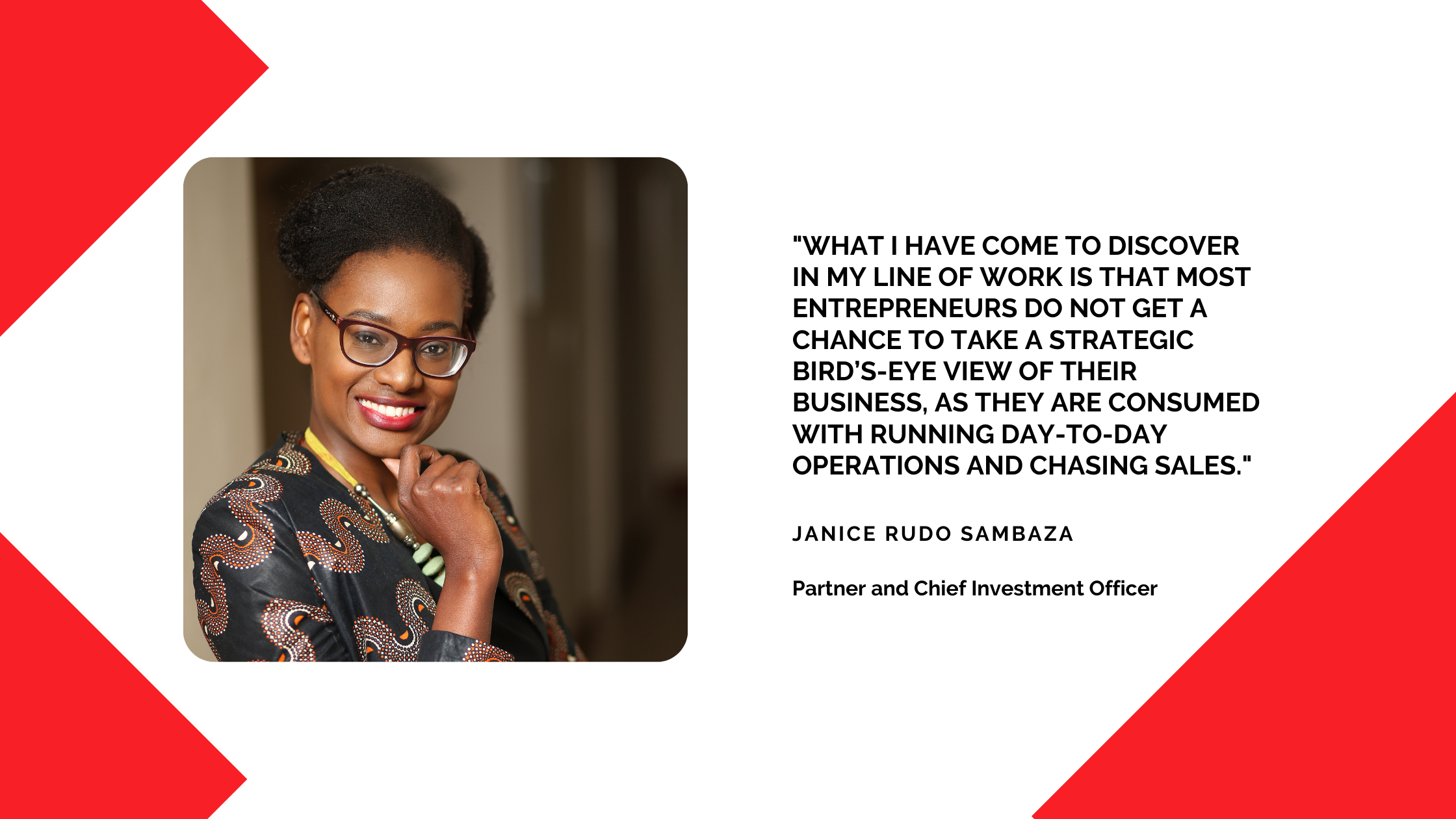 Principles of 'ubuntu' in business
Janice Rudo Sambaza, Partner and Chief Investment Officer wCap Limited
I would be lying to you if I told you that life as an entrepreneur is a breeze. The journey of entrepreneurship is a tough one; there are a lot of curve balls thrown at you and you have to constantly think on your feet, sometimes pivot, all while trying to manage your cash flows. This is even more difficult when you move from the corporate world, where your monthly pay cheque is guaranteed, into entrepreneurship where you need to close a deal or sale, or you don't have food on your table. I must say however, that with the right foundation and support structures entrepreneurship is a very fulfilling journey.
There are a myriad of challenges faced in the first year of running a business. This then begs the question of what needs to be done to help African entrepreneurs to persevere through the first few years of business. I am an advocate that sometimes it is not funding that is required to create a sound business but rather having the ability to set up systems, processes and controls that ensure the business runs optimally on a minimum cost base. The need for financing requires assessment, as getting funding too early may put additional pressure on the business to meet the covenants or terms of the funding.
An approach to take would be to understand your business, the pillars that support it, as well as the key business drivers. Simply put, taking a fine tooth comb through all the work streams in your business as while doing that, you are setting up functional systems, processes and controls that create the foundation for a sustainable business.
What I have come to discover in my line of work is that most entrepreneurs do not get a chance to take a strategic bird's-eye view of their business, as they are consumed with running day-to-day operations and chasing sales. The ability to do so however is highly beneficial as it forces the business owners to take a break and think of where their business is going, what it is capable of and how they can get there. Equally important are the questions: What is the nature and timing of the business funding requirements? Do the funding terms promote the growth of the business? Is the business investor-ready?
Our organisation, wCap Limited (https://womencapital.co/) runs accelerator programs that help entrepreneurs become investor ready. When investor ready, we also assist businesses in raising the capital they require. However, in cases where one cannot access or afford such programs, a good place to start is free online financial management training which will assist the entrepreneur in understanding the structure of financial statements and flow of cash in their business. We have noted that some small businesses do not produce monthly management accounts which shows they are really flying blind with no indication of where they are going or when they require funding to sustain their operations. One of the biggest challenges we have come across is that small businesses are expected to offer their customers, usually larger corporations, credit terms when their suppliers don't. This means they are always cash struck, as they have to fund their customers where they do not receive the same hand from their suppliers. So, if they do not assess the extent of their cash shortage they do not appreciate how much they are in for and this is when you hear businesses shutting down because of cash shortages.
The principle of using 'UBUNTU' to leverage business success.
There is a philosophy or way of life that we know as Africans called 'UBUNTU', which effectively means 'I am, because you are.'
Over the years we have lost some of this as Africans due to the competitiveness and the drive to win as individuals. The notion of "if you want to go fast, go alone, but if you want to go far, then go with others" is still very relevant and yields great rewards when exercised. We are indeed stronger together! I experienced this firsthand in my first year as an entrepreneur and was blown away by the support and referrals I received from fellow entrepreneurs, even those who would have been deemed my competitors. My most prized possessions have been the conversations with business partners or fellow entrepreneurs were we leverage off each other experiences and give each other pep talks when the going gets tough. To succeed as an entrepreneur you need to get up as quickly as you fell and surround yourself with people with a winner's mindset.
The recently commenced African Continental Free Trade Area Agreement is another example of how the Ubuntu philosophy can be practically used in business. It presents partnership opportunities for entrepreneurs in private sector or between public and private sector to feed products or services in large quantities to other African countries. This presents a prospect for us to flourish through using the power of collaboration and the power of oneness, to engage, identify and pursue these opportunities.
Resilience as an entrepreneur
In conclusion, I would want to leave with you thoughts on what we should give focus to as entrepreneurs to scale business resilience on the continent:
Entrepreneurial collaboration and connectedness.
Being aware you are embedded in a healthy ecosystem where you give some and take some. Businesses thrive in communities that thrive and it is essential for businesses to find ways that they can give back to the community. Business strategies need to be established within the triple bottom line – profit, planet and people. I always liken this to a three legged pot, where all legs need to balance for the pot to remain steady. So, apart from chasing profit as a business, what are you doing towards planet and people?
Last but not least, you need to be able to understand the key drivers of your business and what will make your business grow sustainably.
If you would like to contact us for further information, please do so by clicking the links below:
Facebook | https://www.facebook.com/wCapZM
Twitter | https://twitter.com/wCapZM
LinkedIn | https://www.linkedin.com/company/wcap-limited/
For media enquiries please email : info@womencapital.co
For queries Contact : janice@womencapital.co